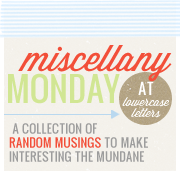 How in the world is it already October? Dare I say that Christmas will be here before we know it?
There are a few things in our life that I really thought would happen by the end of the year. The big one is our house being sold. Considering we haven't even come close to putting it on the market, I'd say that isn't going to happen. Maybe by the end of next year.
-----
I think my obsession with owls might be getting out of control. And I love it! The husband is starting to call me the weird owl lady. But hey! At least it's not cats. :)
-----
I love my husband. I like him too. :) We are such homebodies. I'm glad that I genuinely like spending time with him. There are moments where I'm honestly overwhelmed with love for him. The longer I'm married to him, the more moments like that I have.
These moments make me think of my Granddad and my Mommom. He passed away when I was a baby. If you ask her about it him, she'll tell you he was as close to perfect as you can get here on Earth. That's how I feel about my husband. I want to cherish him and every moment I have with him while I have it. I hope you feel that way about your husband too. :)
Mushy time over now.
-----
I think I have a job interview Thursday. It's nothing big. It's tutoring students from my school after school two days a week. It's technically a second job since it is through an outside company. I've done it the past two years and it's easy money. I just assumed I would do it this year, but the husband kind of questioned me on it because I hadn't talked to him about it. He isn't for or against it, just hadn't talked to him. He is anti me doing anything extra this year. He knows how much I put on myself last year and wants me to have an easy year. See why I love him so much?!?
-----
The husband decided he wanted a ping pong table. Not sure why! I mean I love ping pong, but his decision was a bit random. I wouldn't let him get a full size ping pong table because I figured one of two things would happen. Either I wouldn't be able to park in the garage anymore or the table would stay folded up because of our cars and we would have wasted our money.
So he found a retractable net that fits to any table. Needless to say this weekend our dining table became a ping pong table for a night. Oh the fun we had!! I laughed until I cried as the husband made fun of my superior techniques. It was a blast.
Can you tell he's a bit competitive? HA!
-----
And now for a hot bath to wind down and get ready for the week. Today was professional develop day with no students so it doesn't count in my book.